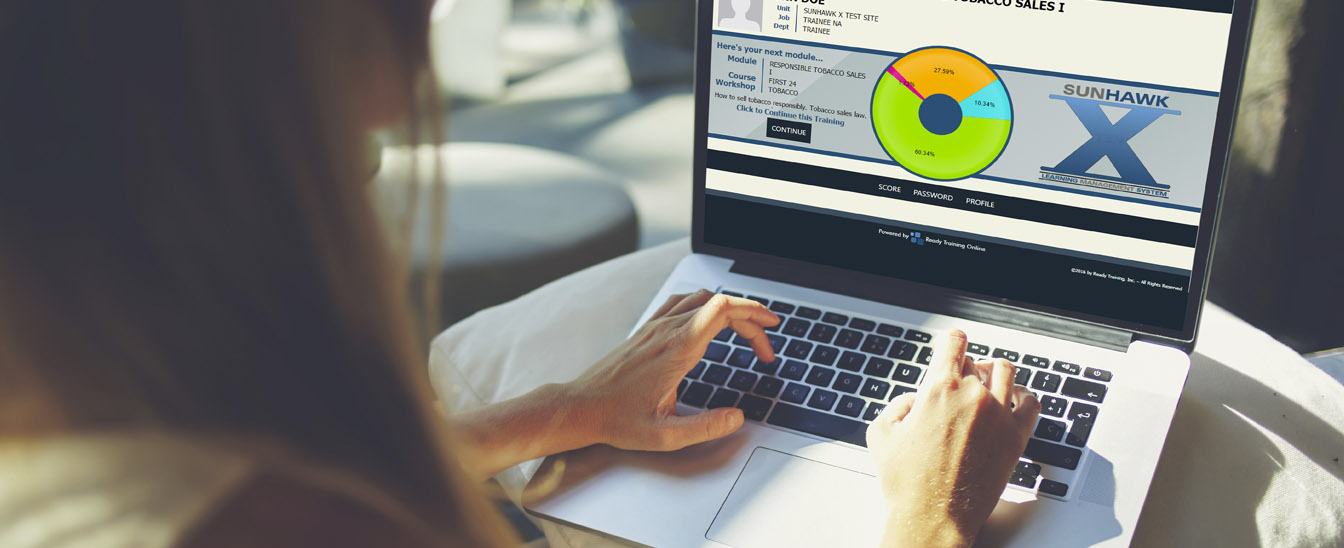 Online Employee Training
We all know that training is essential, but quality employee training is integral to the success of your company, that's where we come in. As the trusted name in quality training, we recognize that successful companies have a higher percentage of employees who report that being well-trained makes them more content and confident in their jobs. We designed the Sunhawk Learning Management System (LMS) to capitalize on that fact, and it is the tool you need to build an exceptional team.
At  Ready Training Online, we're committed to keeping up with changes in technology that drive business success. What started a decade ago as a more efficient way to deliver, manage and track employee training, has progressed into a flexible full-service, online training and learning management solution. Our Sunhawk Learning Management System (LMS) is built to deliver the training your employees need and the administration tools you want. By streamlining training administration tasks such as assigning, tracking, and reporting, your managers have more time to focus on customer service and profitability.
About Learning Management
As technology continues to dominate how we live our lives, so should the training you deliver to your employees. Online training for your operation covers topics from customer service and problem-solving to loss prevention and compliance. Like any training program, what your employees walk away with is just as important as what they're given. RTO's Sunhawk Learning Management System clicks and sticks, improving your profitability.
Benefits of learning management systems include:
Convenience. Our e-learning modules for your employees are available at times that work around busy schedules.
Metrics and tracking. The RTO learning management platform has built-in tracking so you know when employees took the course, and how they performed.
Cost effectiveness. With web-based courses, your training costs are decreased because assessment and re-training are streamlined and simplified.
Engagement. Online training modules break up content into easy-to-absorb segments, holding employees' attention spans longer than lecture-based training.
Better retention. Studies show trainees may only retain 10% of what they hear in a lecture. With engaging and interactive online learning, that retention level goes up toward 70%.
Sunhawk™ Learning Management System
Train. Report. Certify.
The Sunhawk LMS delivers consistent results through the use of short interactive training modules, segmented training workshops and comprehensive reporting and tracking tools. This makes it easier than ever to record and track important documentation related to compliance and certifications. Engaging and interactive, the Sunhawk Learning Management System (LMS) makes it simple for you to train employees and track their progress. We have a large variety of topics available in extensive learning libraries and also provide custom training production.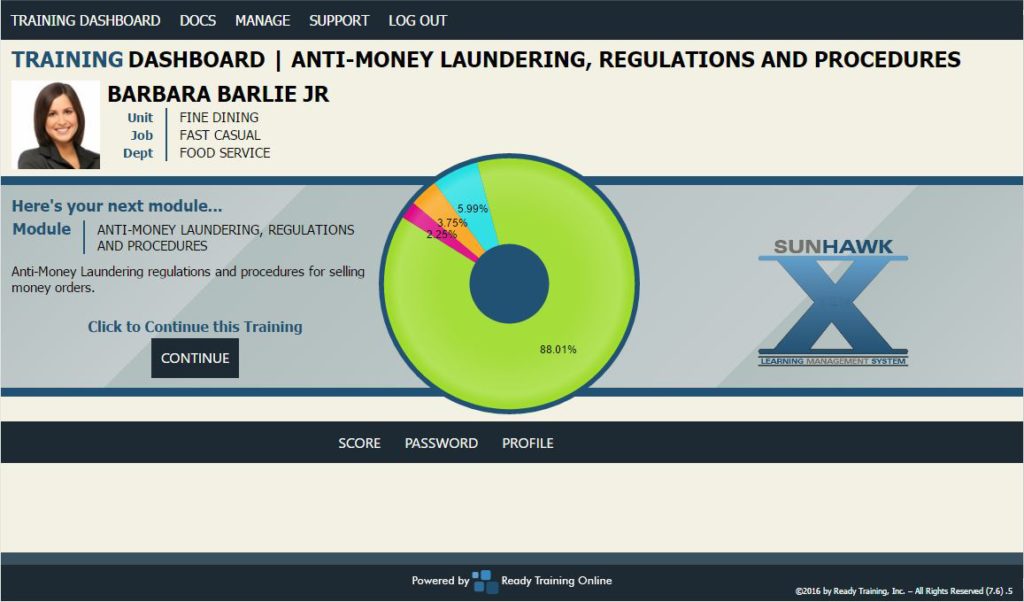 Training for Today's Workforce
Adults learn best when they can focus on one subject at a time. When courses are to-the-point and engaging, learners are more likely to retain what they've learned. Sunhawk, our Learning Management System (LMS), uses short interactive training modules that engage your employees and deliver a clear and consistent message. Modules can be assembled into workshops that best suit your needs – follow our suggested learning path, or create a custom one for your team. Administrative reporting allows managers and trainers to easily track progress and completion of each training module.
Assembling a Program of Training Modules
Training modules are assembled in groups by topic to make up training workshops. With workshops available in a variety of subjects, you can build a training program that aligns with your overall operational and training goals. When creating a custom program, Training Administrators assign workshops based on employees' job types. When employees login, they see only the courses assigned to them. Employees go through each focused module, ranging from 3 to 15 minutes, in an easy to understand, step-by-step format. Depending on the length of the module, it may be broken into segments with review points and quizzes along the way.
Addressing Learning Gaps
All modules have exams at the end. By default, if a trainee fails an exam three times, a manager is required to sign off before the trainee can resume training. This functionality is designed to ensure managers are aware of learning gaps and can be customized by the Training Administrator. The end result is a certified and well-trained workforce.
Custom Learning Paths for Your Employees
Customized Courses using Training Workshops
When you use RTO's Sunhawk Learning Management System for your company's e-learning, you are in control of the learning paths of all your employees. Our workshop-structured online training is flexible based on your specific needs. Follow our recommended training program, or create your own!
Each curriculum series is segmented into topic-specific training workshops, which are further broken down into training modules. You choose the topics to include in your training program, giving you full control of learning paths for different jobs, roles or locations within your company. The programs are easily customized to fit your specific needs, and can be used to cover the fundamentals, ongoing advanced career training, and even refreshers for your seasoned employees.
Streamline Your Employee Training
Using this system, you are ensuring that your employees are receiving the training they need by establishing specific workshops for each job title and/or role. Implementing training workshops at every level will streamline your employee training and position your team for success.
For example, new hire training could be made up of several workshops that will help employees start off strong in their new jobs and ensure early success. Using our Sunhawk Learning Management System, you can assemble learning paths to cover topics that best support your company goals. Our seasoned activation and account management teams will walk you through every step in the process to ensure your training program is exactly the way you want it.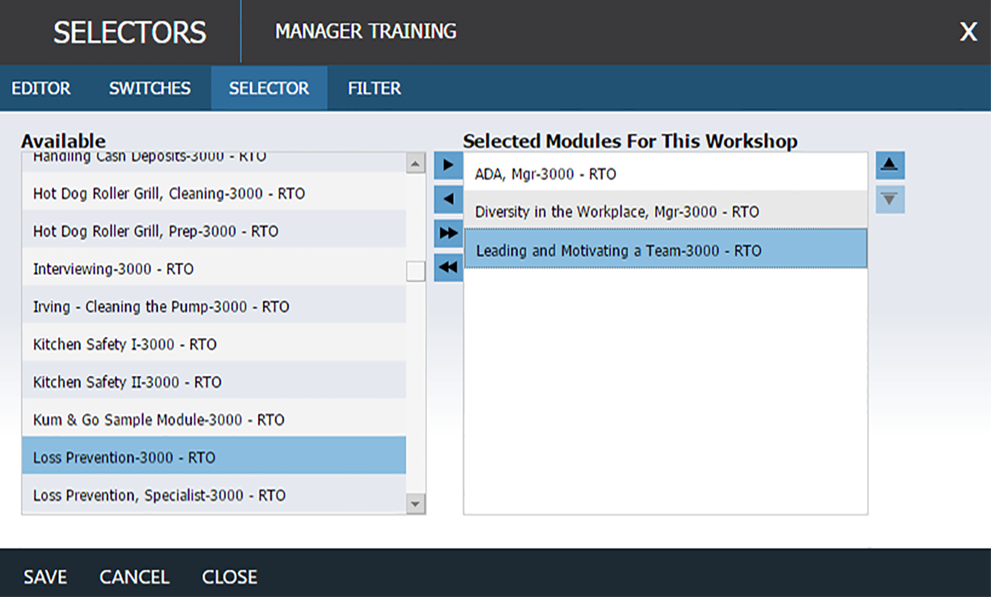 Quizzes & Exams to Reinforce Learning and Compliance
Assessment is a critical piece of any training. In an online learning environment, assessments improve learner engagement and retention. When trainees know they must pass an exam before they can continue their training or start their position, they're more likely to take the training seriously, pay attention, and retain what they've learned. Assessments also allow training administrators to identify learning gaps and follow up with trainees who need extra attention.
Online Training Quizzes
Depending on the length of a module, quizzes may be used at steps within the training to give learners a break from the training and assess their knowledge of the previous material. If trainees miss a question, they'll be prompted to review the essential learning points.
Online Training Exams
Online training exams are a critical component to any online learning program. Managers, owners, and training administrators need to know that trainees have both completed the assigned training and understood it. All the training modules in the Sunhawk Learning Management System have exams at the end. Exam questions are random to maintain the integrity of the testing process. Trainees who fail the exam will be prompted to repeat the entire module. Exam results are accessible to training administrators through the LMS's real-time reporting functionality.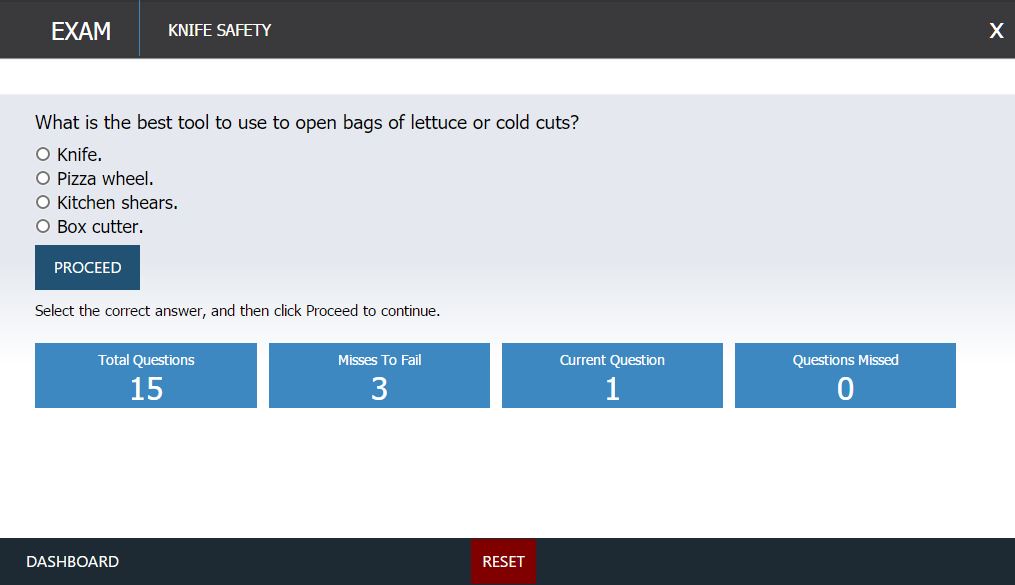 TRAC Calendar for Training Administrators
Our number one goal with the Sunhawk Learning Management System is to provide consistent, engaging and implementable training to all your employees. We also realize, however, that for that training to help you meet your goals as a Training Administrator, it must be easy to schedule and track. Our TRAC calendar provides an "at a glance" view of all of your training activity and can be used to track upcoming reports and training events at the locations you are managing.
From the TRAC calendar, Training Administrators are able to easily view scheduled events, customize and filter their view, and access reports and training schedules. With the TRAC Calendar streamlining training activities, Training Administrators can focus on your most important assets – your employees!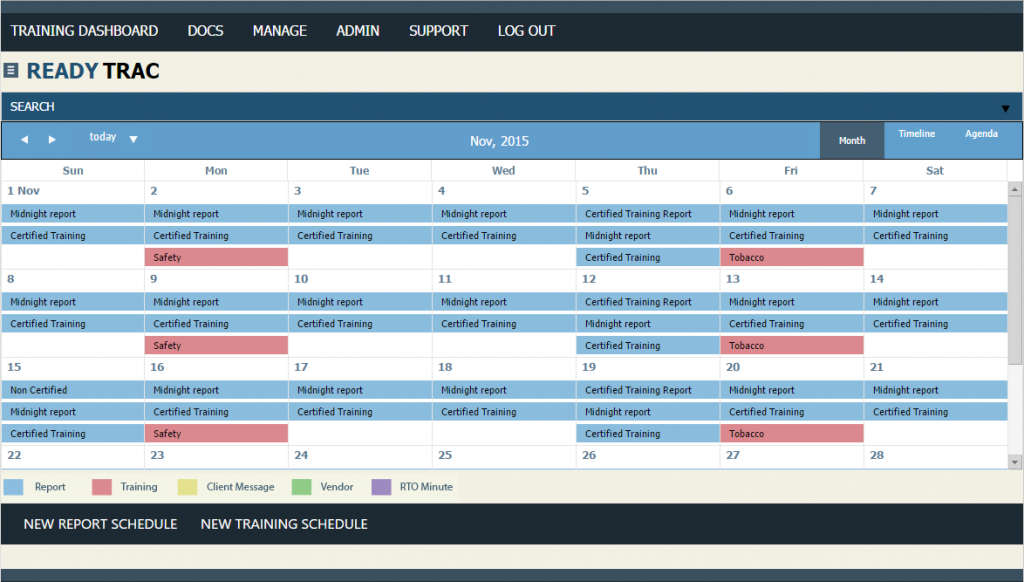 On-the-Job Training (OJT) Manager Sign-Off Tools
E-learning has become an integral part of a successful corporate learning program. While there are many benefits of e-learning, taking a course online is not meant to replace on-the-job training. A blended learning strategy is critical for employees to be successful and businesses to thrive. It is very important to provide your trainees with the hands-on experience they need. On-the-job (OJT) allows the trainer to see the trainee learning and practicing their new responsibilities.
 OJT Means Success
That's why the Sunhawk Learning Management System includes manager sign-offs that track OJT activities. Manager Sign-offs are designed to confirm that trainees are ready to successfully move forward. Sign-offs are for manager/trainer use and are password protected. Sign-offs also provide notification when trainers are needed at key points in the learning path. Success Guides are provided for employees to help them keep track of the OJT steps in the training process.
Blended Learning for Training Success
When blended with traditional on-the-job training and mentoring, our methodology helps employees master the knowledge and skills they need to perform their jobs effectively and efficiently while also supporting company objectives. Establishing effective development plans and tracking training progress will provide a foundation for each employee to succeed.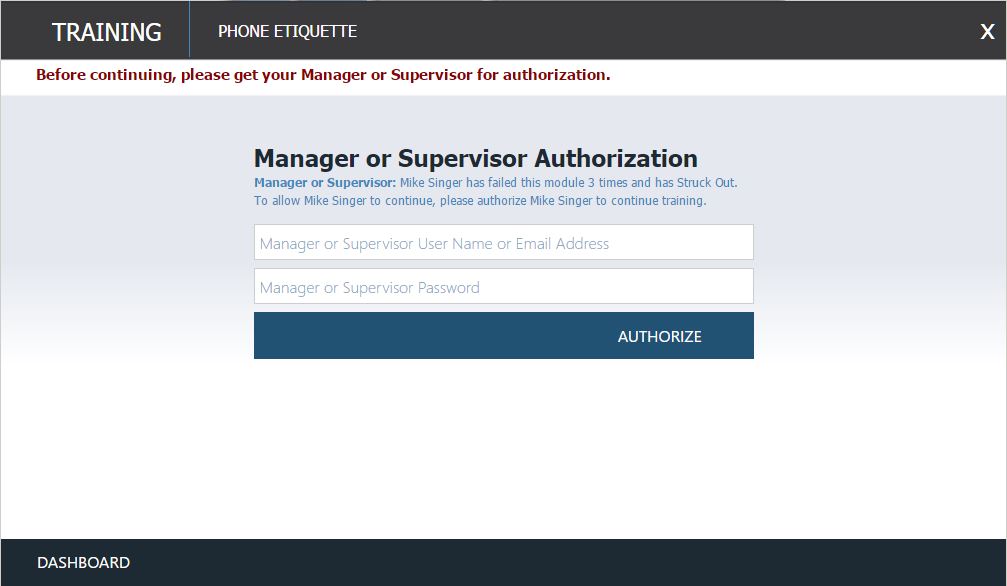 Real-Time Reporting for Training Administrators
Report. Manage. Track.
Online learning makes tracking your training effortless. The real-time reporting in our Sunhawk Learning Management System allows you to filter and track training progress specific to the needs of your business. Just like our training, the reporting can be accessed, viewed and managed from anywhere, on any device.
With our reporting system, you can choose the level of detail you want to analyze. Our comprehensive real-time reporting tools are designed to give you "at a glance" access to your training events or delve deeper for more comprehensive details. Training administrators schedule reporting and training events easily and more efficiently than ever. Discover a new way to schedule, manage and track all of your training data with these features:
Pre-built reports that can be modified to fit your needs
View training happening in real-time
Plan and automate the delivery of reports, training and re-certify employees
Ready Report Scheduler
Our Ready Report Scheduler is easily customized to fit your needs and is a great way to stay ahead of the training needs of your employees.
Document Library to Organize & Maintain Training Collateral
Here at RTO, we understand that companies have a lot of material that goes along with new hire onboarding and ongoing training. To help training administrators streamline efforts and keep all related materials in one place, our Sunhawk Learning Management System subscription includes a built-in document library. With storage capability for up to 10 documents, it is a quick and easy way to share important documents and forms with your team.
Storage capabilities and access to the Document Library can be customized to fit the needs of your business. Stored documents might include:
I-9s
Handbooks
Manuals
Fuel Inspections
W-2s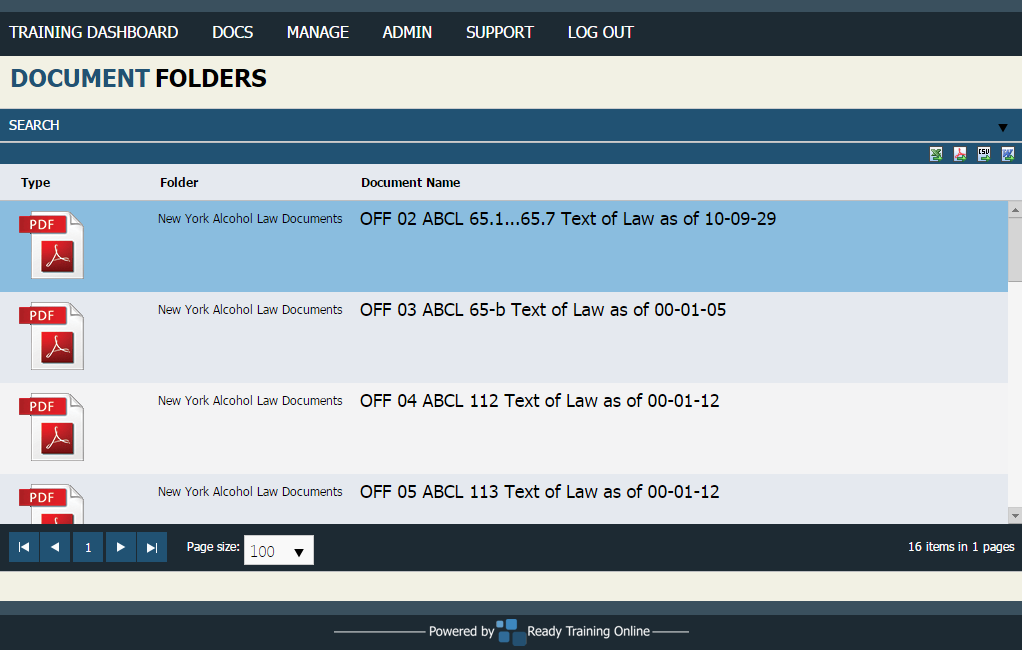 Success Guide to Support Every Trainee
Employees are the foundation of your business. Providing them with the tools they need to be successful helps to ensure they'll be able to implement their training. From safety and compliance to customer service and food prep, all online training requires proper follow up. Online learning through the Sunhawk Learning Management System includes a Success Guide. This unique feature is designed to help the trainer and trainee stay on track with On-the-Job training (OJT).
During OJT, the Success Guide ensures that important issues essential to the future success of your trainees do not get missed or overlooked. Customizable and flexible, the printed Success Guide encourages trainers and trainees to become active participants in reaching your company's overall training goals.
Training Checkpoints to Empower Employees
Checkpoints are another feature of the Sunhawk Learning Management System that empowers trainees to engage with and be accountable for their own training. Trainees are presented with a series of checkpoints at the end of a module or workshop. With the checkpoints as their guide, trainees and their managers or trainers can easily identify learning gaps. Checkpoints evaluate the trainee's understanding of the training material and assist employees in skill growth and development.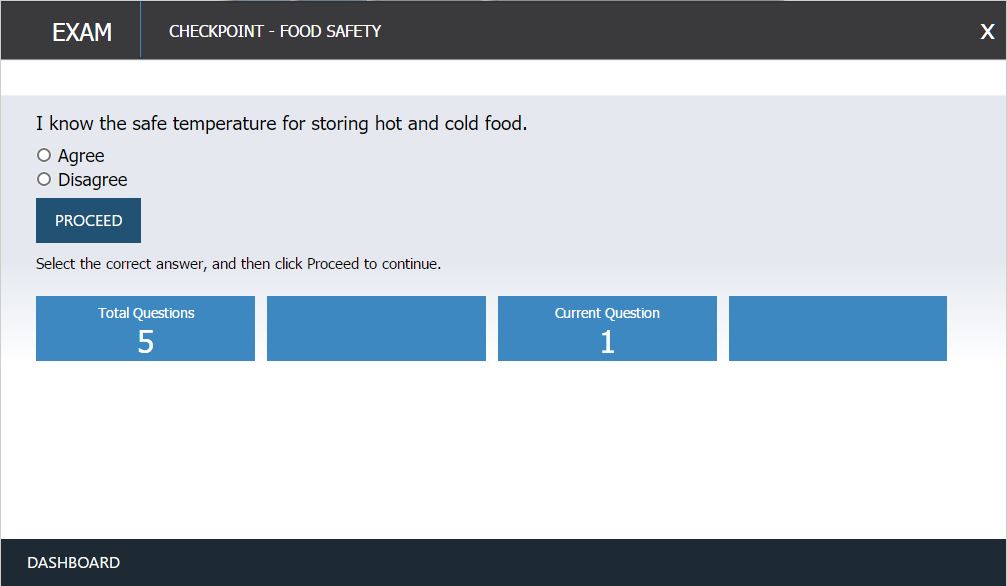 Printable Training Certifications
Short. Sweet. Certified.
Many training modules accessible through the Sunhawk Learning Management System come with printable trainee certifications. When an employee is certified in a training topic, they'll be more invested in implementing what they've learned. Certifications can also be used for professional development and continuing education. Our certifications are also beneficial for employee performance reviews and as protection from litigation. Proof of certification is easily accessible.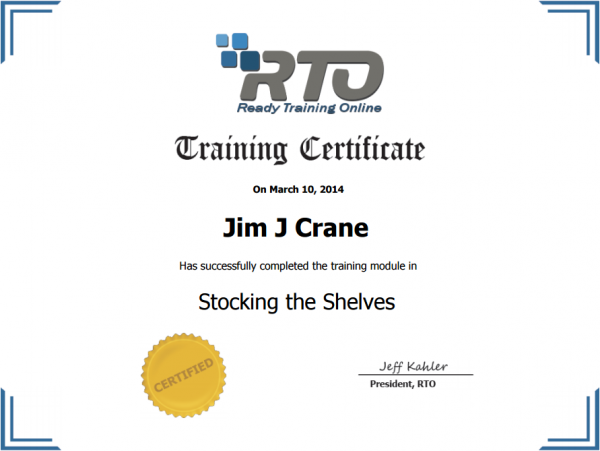 e-learning Library from RTO
For more than a decade, RTO has been a leader in e-learning, specializing in training for the service industries. Our Sunhawk X LMS platform delivers engaging and relevant training to thousands of users across the globe.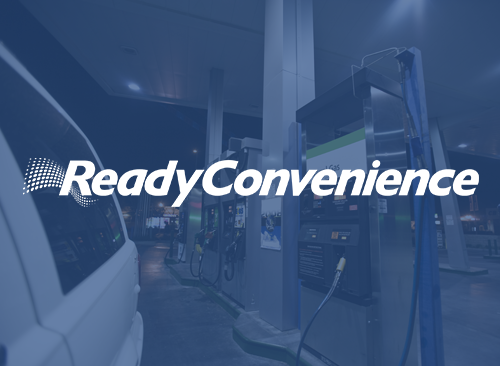 Empower your front-line with a comprehensive c-store training suite designed to increase employee retention and productivity.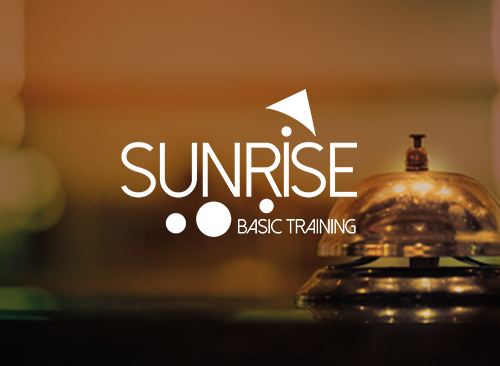 Lodging's number one front-line employee training series, used by over 5,000 hotels representing more than 40 brands.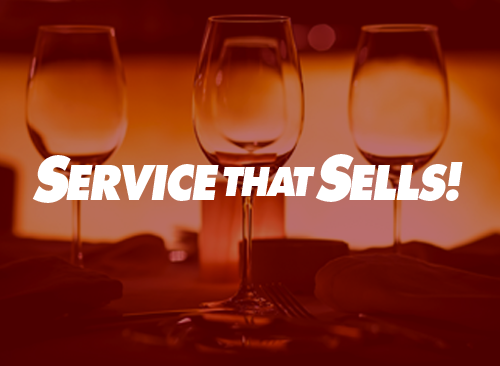 A versatile line of restaurant staff training, designed specifically for the ever-changing world of the restaurant industry.