Choose a Plan Built for You
Our flexible trainingGrid® LMS plans were developed to give you choices that match the needs of your team. Elevate your learning experience today with Fundamentals to provide a strong foundation, Advanced for enhanced features, or Enterprise for comprehensive scalability.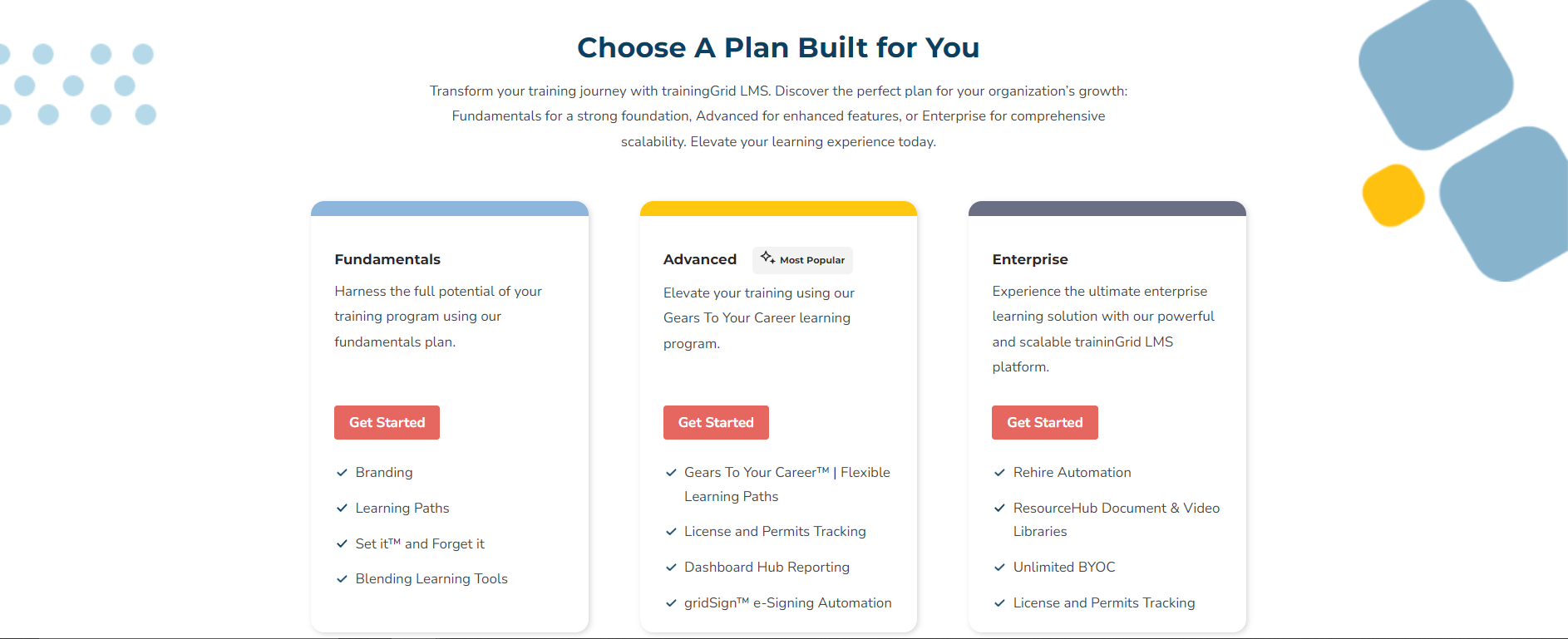 Fundamentals
Harness the full potential of your training program using our Fundamentals plan.
Customizable Branding
Learning Paths
Set it and Forget it Scheduling
Blended Learning Tools
AdvancedMost Popular
Elevate your training using our Gears To Your Career™ learning program.
Gears To Your Career™ | Flexible Learning Paths
Licenses and Permits Tracking
HUBS Reporting Dashboard
gridSign™ Electronic Signatures
Enterprise
Experience the ultimate enterprise learning solution with the powerful and scalable trainingGrid® LMS.
Rehire Automation
ResourceHub Document & Video Libraries
Unlimited Bring Your Own Content
Licenses and Permits Tracking
Features
Fundamentals
Advanced
Enterprise
URL



Login Page



MyGrid Page



Custom Binder, Folder, Subfolder Creation



Filtering



Version Control


Document Storage
10 Docs
50 Docs
Unlimited Docs
Video Storage
50 Vids
Unlimited Vids
Customized Learning Paths & Workshops



Multi-Level Filtering



Set it and Forget it Scheduling



Assign On-Demand Training



Drag-n-Drop Configuration



Classroom Logging or Auto-Certify


Checkpoints



Trainer Signoffs



Flexible Learning Paths


Chain-Link Workshops


SCORM 1.2 or 2004
10 Modules
Unlimited Modules
Document to Exam - DTE



Document to Acknowledgment - DTA



gridSign™ Electronic Signatures


Licenses and Permits Tracking


Surveys


HUBS Reporting Dashboard


Notifications for Training



Scorecard



Review



Percentage Quick View



Intuitive Dashboard w/Team Members Score



Rehire Automation


Percentage Quick View



Company Percentage Reporting



Set it and Forget it Scheduling



Multi-Level Filtering



Legacy Reporting



Email Training Notifications



Sidekick



Email Support



Phone Support



User Roles & Permissions